HTML

In December 2019, after the coronavirus disease 2019 (COVID-19) outbreak in China, the Chinese government implemented a series of strong measures including the introduction of COVID-19 into the mandatory reporting of infectious diseases, the lockdown of Wuhan, and the quarantine of all inbound passengers followed by isolation at designated sites for 14 days; under no circumstances were any foreign crewmembers of cargo ships allowed ashore. By the middle of April, China had successfully interrupted the virus' transmission in the community.

COVID-19 has since been largely controlled in China. However, several outbreaks or clusters of COVID-19 cases have occurred and have been linked to importation of cases or from suspected virus-contaminated imported products. Several outbreaks were suspected to have occurred due to the handling of cold chain seafood by the first infected case, especially with outbreaks in Beijing's Xinfadi and Dalian City (1-3). After epidemiological investigation, the full-length viral genome in those outbreaks could be traced back to SARS-CoV-2 contamination of the outer packaging of cold chain products. However, the most important evidence, the isolation of the live virus, was not obtained.

Presently, there is still no consensus on whether the outer packaging of the cold chain products can carry live viruses and cause virus transmission. The World Health Organization (WHO) and Food and Agriculture Organization (FAO) of the United Nations believed that the outer packaging of cold chain products could not carry live viruses and cause virus transmission (4-5). However, China's key ports of entry by air, land, and sea have faced outbreaks and challenges related to the COVID-19 epidemic. Qingdao, a major port in eastern Shandong Province and China's second largest foreign trade port, started active monitoring using nucleic acid testing on 14-day intervals in August 2020 for the populations at high risk and those that process, sell, and handle frozen aquatic products. On September 22 and 24, 2 cold chain dock workers from the same company screened positive for SARS-CoV-2; these cases became the first reported in 151 consecutive days in Qingdao City. To identify the source of infection and evaluate the risk of virus transmission from the contaminated outer packaging of cold chain products, an in-depth field epidemiological investigation was conducted. Full-length viral genome sequencing, real-time reverse transcription polymerase-chain reaction (rtRT-PCR), and virus isolation were carried out.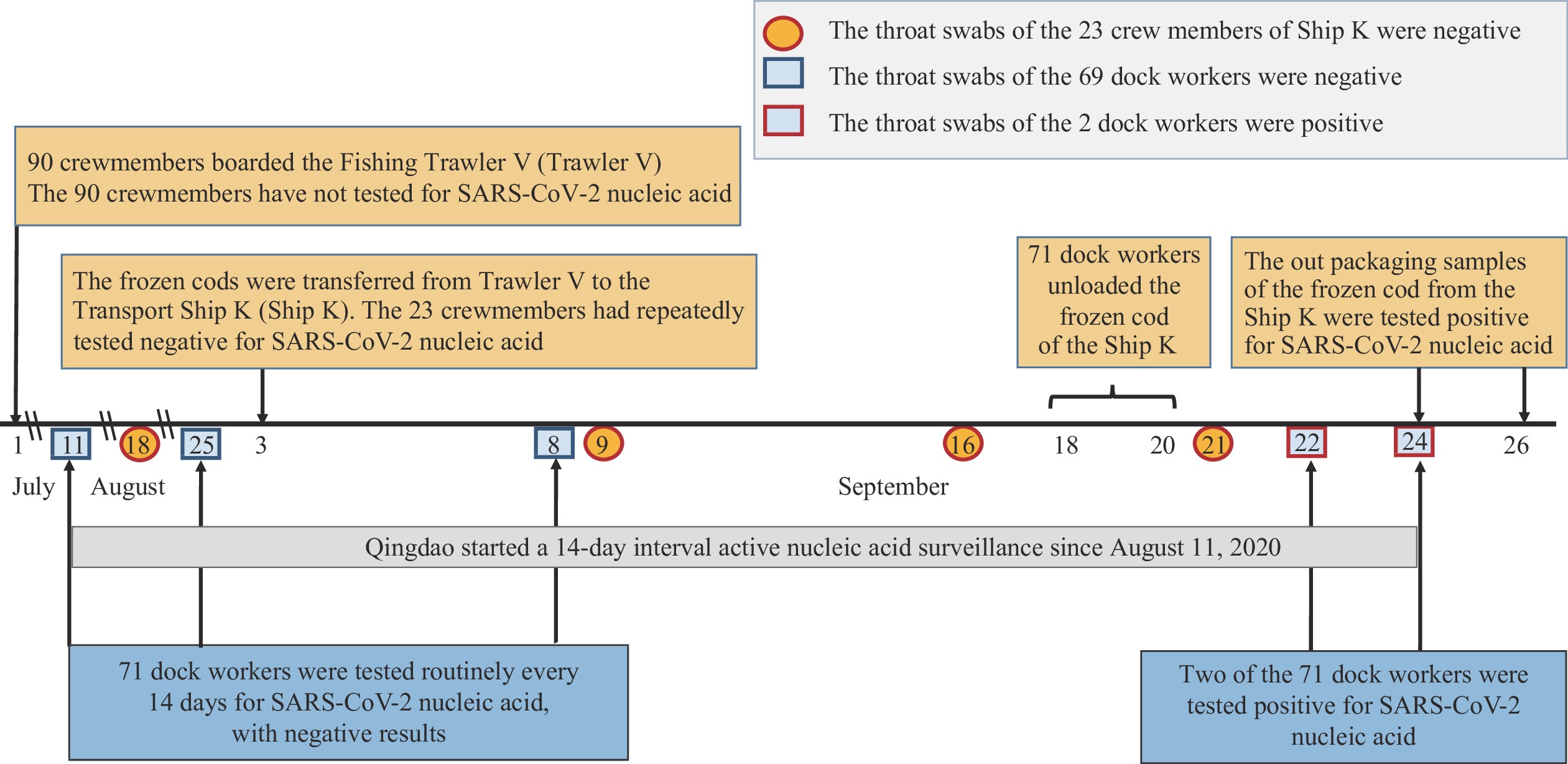 Reference (10)